Overview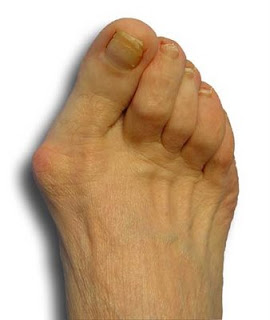 A bunion occurs when the big to begins to deviate towards the second toe. The biggest misconception is that bunions occur from an overgrowth of bone. While this may be true in very few people, the bunion really represents a dislocation or subluxation of the big toe joint and it bulges against the skin. This bony prominence is what is commonly called a bunion. Sometimes the bunion area may become irritated, red and/or callused.
Causes
The exact cause of bunions is unknown, but they tend to run in families. Wearing badly fitting shoes is thought to make bunions worse. It's also thought that bunions are more likely to occur in people with unusually flexible joints, which is why bunions sometimes occur in children. In some cases, certain health conditions, such as rheumatoid arthritis and gout, may also be responsible.
Symptoms
Symptoms, which occur at the site of the bunion, may include pain or soreness, inflammation and redness, a burning sensation, possible numbness. Symptoms occur most often when wearing shoes that crowd the toes, such as shoes with a tight toe box or high heels. This may explain why women are more likely to have symptoms than men. In addition, spending long periods of time on your feet can aggravate the symptoms of bunions.
Diagnosis
People with bunions may be concerned about the changing appearance of their feet, but it is usually the pain caused by the condition that leads them to consult their doctor. The doctor will evaluate any symptoms experienced and examine the affected foot for joint enlargement, tissue swelling and/or tenderness. They will also assess any risk factors for the condition and will ask about family history. An x-ray of the foot is usually recommended so that the alignment of big toe joint can be assessed. This would also allow any other conditions that may be affecting the joint, such as arthritis, to be seen.
Non Surgical Treatment
Somtimes observation of the bunion is all that?s needed. A periodic exam and x-ray can determine if your bunion deformity is advancing. Measures can then be taken to reduce the possibility of permanent damage to your joint. In many cases, however, some type of treatment is needed. Conservative treatments may help reduce the pain of a bunion. These options include changes in shoe-wear. Wearing the right kind of shoes is very important. Choose shoes with a large toe box and avoid narrow high heeled shoes which may aggravate the condition. Padding. Pads can be placed over the area to reduce shoe pressure. Medication. Nonsteroidal anti-inflammatory drugs may help reduce inflammation and reduce pain. Injection therapy. Injection of steroid medication may be used to treat inflammation that causes pain and swelling especially if a fluid filled sac has developed about the joint. Orthotic shoe inserts. By controlling the faulty mechanical forces the foot may be stabilized so that the bunion becomes asymptomatic.
Surgical Treatment
Bunion surgery is an option for those who have persisting pain and the condition is worsening. Surgery on a bunion can correct the bone deformity, increase function and relieve pain. Bunion surgery should not be considered lightly, the surgery is often successful but there is a rate of surgical failure. The big toe can move back into its previous place if the patient does not follow instructions, which will result in the pain returning. The surgical failure for bunions can be reduced greatly if activity restrictions are followed and proper footwear is worn after surgery.
Prevention
Bunions often become painful if they are allowed to progress. But not all bunions progress. Many bunion problems can be managed without surgery. In general, bunions that are not painful do not need surgical correction. For this reason, orthopaedic surgeons do not recommend ?preventive? surgery for bunions that do not hurt, with proper preventive care, they may never become a problem.